This season's box features a warm and cozy theme, bursting with locally-crafted goodies to help get you through our long Minnesota winter.
CERAMIC TRAVEL MUG,
POTTERY BY PAULA - WOODBURY
Paula Clegg is a potter and ceramics teacher from Woodbury, Mn. She has been making pottery and teaching Art for over 13 years. Pottery by Paula strives to create functional pottery that is inspired by the beauty of nature. www.etsy.com/shop/PotteryByPaulaC

HAND PAINTED

ORNAMENT,

A MONDAY IN MAY - ALBERTVILLE
My name is Mandy Stelter and I live in Albertville, MN. I own A Monday In May - I design, paint & frame wood signs of all sizes. I love creating handmade signs for you to display in your home or give as gifts. I take custom requests and enjoy working with clients on the perfect sign. Thank you for shopping small and supporting my handmade business! www.amondayinmay.com
HOT COCOA PACKETS,
MIKE & JEN'S - DULUTH
Mike and Jen's hot cocoa was started by a single dad and his two kids in the northern Minnesota city of Duluth. The goal was to create the best hot cocoa mix in the world, using only natural ingredients, and focused on creating a creamy, rich mix that only needs water. Find out more about them at  www.MikeAndJens.com
VANILLA BEAN MARSHMALLOWS, NORTH MALLOW - LONG LAKE

Sparked around a Minnesota campfire, the idea of a flavorful, better-for-you marshmallow inspired the creation of North Mallow marshmallows. The husband and wife team, both camp councelors, wanted to improve upon the classic to deliver a delicious line of mallows that you can feel good about sharing with your family and friends. They believe food should be made with simple, real ingredients. They never use high fructose corn syrup, chemical preservatives, or anything artificial making North Mallow a flavorful, feel-good treat that everyone can enjoy.  www.northmallow.com
GOAT MILK BAR SOAP, TWISTED OAKS FARM - GREY EAGLE
Hello, Anthony and Lateshia Harden here and we are Twisted Oaks Farm. We are a small-town hobby farm just outside of Grey Eagle.
Our pride and joy are in our beautiful animals, luscious gardens, and our soft and nourishing skin care products. We love giving back to our communities. We donate a percentage of every order made toward buying Christmas presents for children that are in the system. We thank you for shopping small this Holiday Season. www.twistedoaksfarm.net
LOON CARD, CINDY LINDGREN - MINNEAPOLIS
I enjoy drawing from our favorite seasonal hangouts, the native flowers we stop to admire, the birds that sing at our birdfeeders and our favorite Minnesota landmarks to visit. I draw everything by hand and simplify what I see into a few lines, before finishing the art digitally and choosing my own personal rich color palette. I love what I do and bring enthusiasm into each and every illustration. www.etsy.com/shop/CindyLindgren
MAPLE CINNAMON NUTS,

PATTI'S - MINNEAPOLIS



Minnesota Hockey Mom, Patti Heimbold, started out by bringing bags of her granola and nuts to her son's hockey games. Families started asking how they could get more and a new business was born. Today, Patti's Nuts & Granola are made with a passion for making people happy and healthy with simple food. Patti's Nuts, Rosemary or Maple Cinnamon feature extra large, premium mixed nuts. They are perfectly seasoned with herbs and spices, hand-roasted and packed with care in small batches. Patti's Nuts are perfect for indulgent healthy snacking, entertaining and gifting. Shelf life based on your restraint.  www.pattismpls.com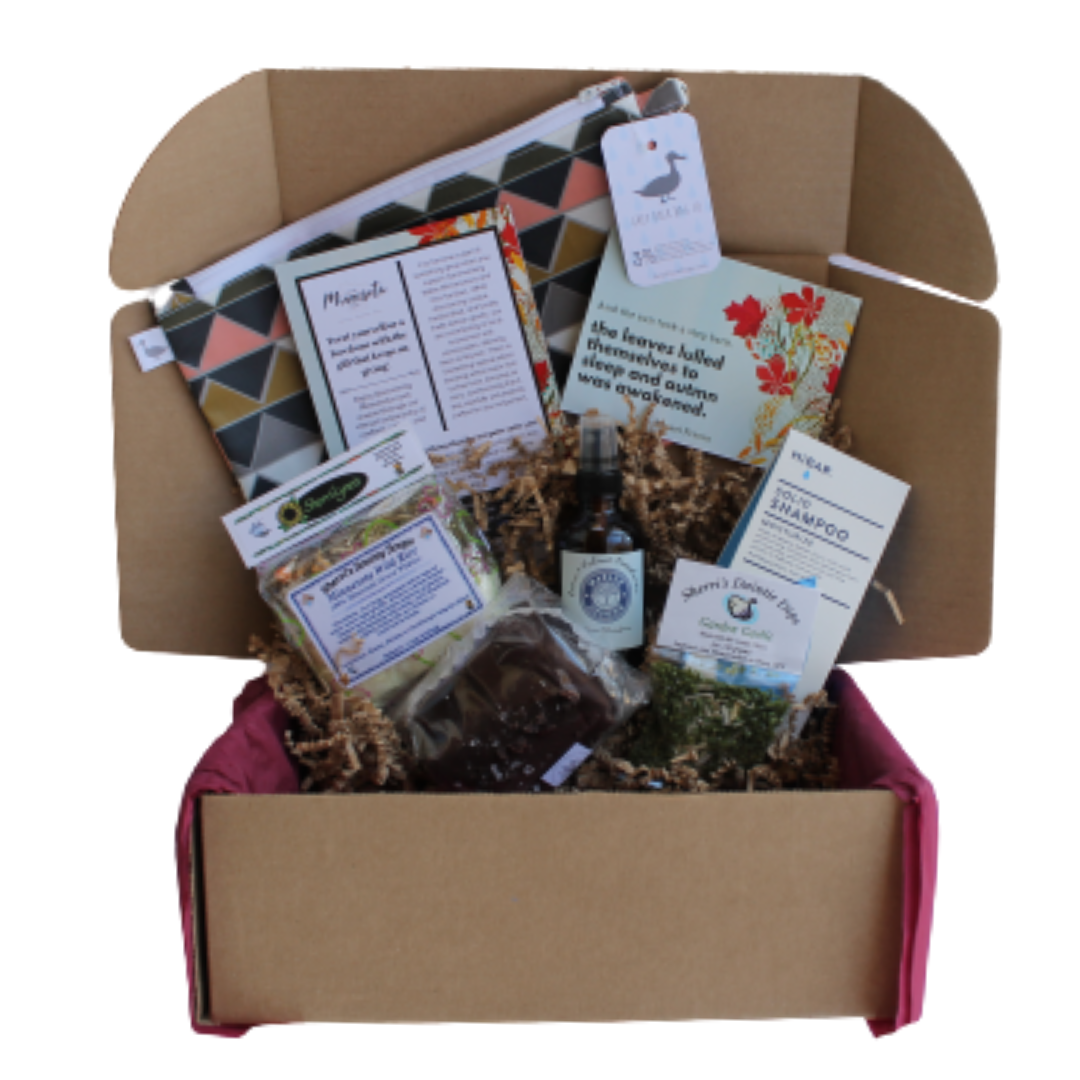 This season's "Variety" box features a fabulous assortment of Minnesota-crafted goodies hand-picked for your enjoyment.
room freshener, Marlee designs - BIG LAKE
Marlee Designs was founded in 2016 when owner, Tressa Hills, relocated back home to Minnesota with her young family. She was looking for products for her home that were made of natural ingredients and sustainably made, and the store bought products just weren't cutting it. All of Marlee Designs bath and body products are hand-crafted in small batches in Big Lake, Minnesota. Please visit our website for information on events throughout the state of Minnesota!  www.marleedesignsart.com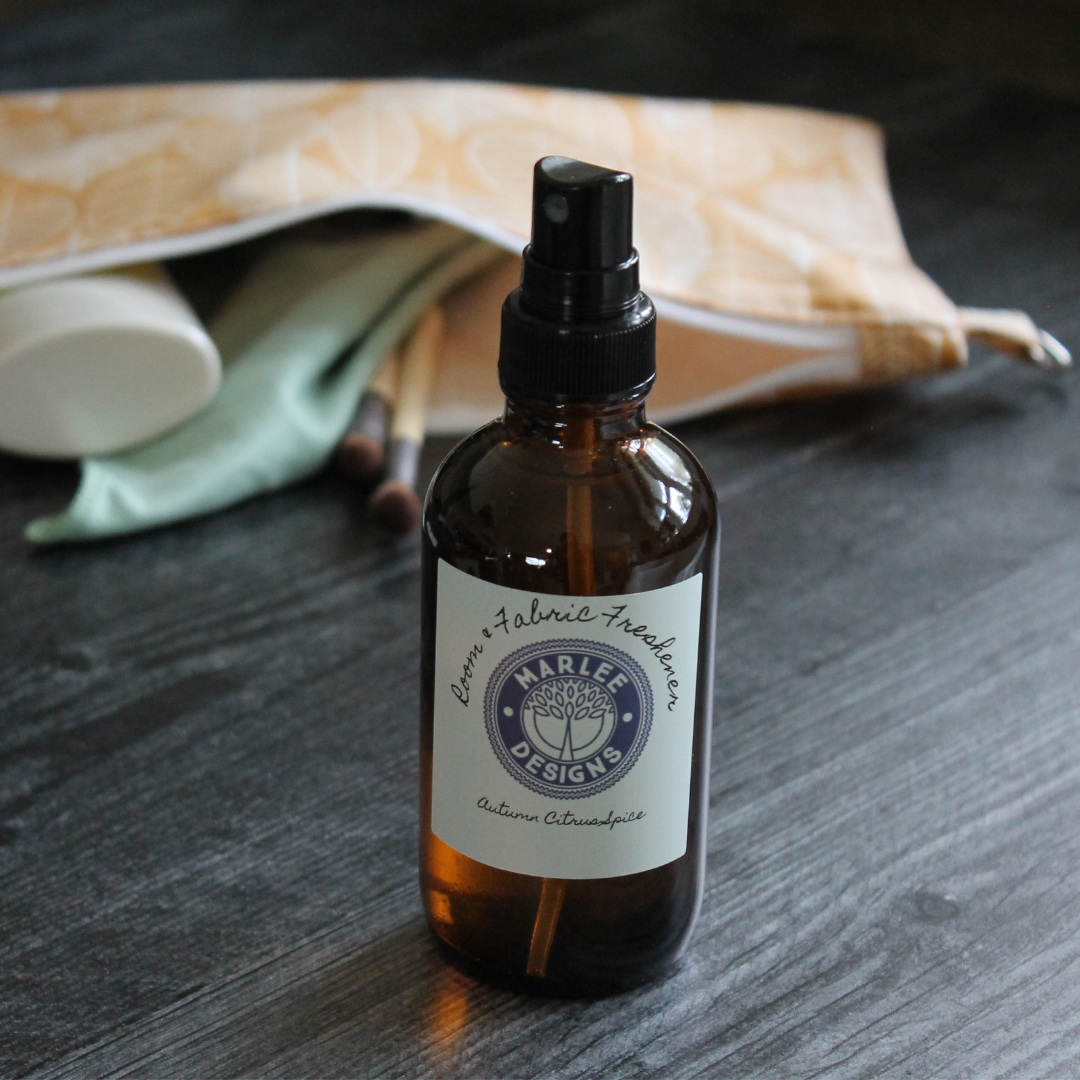 Water-resistant pouch, grey duck bags - Ely
When Tara Boerst had her first (and only) child, she was overwhelmed by all of the accoutrements that seemed to follow her around.  Namely, her diaper bag.  How many blasted diapers does a normally-intestined baby really need? And lo, her first bag was born: a slim wristlet big enough for a diaper or two and a few essentials. Every Grey Duck bag is made with water resistant, wipeable laminated cotton because kids are messy. It was her daughter's childhood that inspired these bags, but there's room enough for a bit of her own as well. Right there on the label, from the game every kindergartner in northern Minnesota knows, including my daughter: Duck, Duck, Grey Duck. www.greyduckbags.com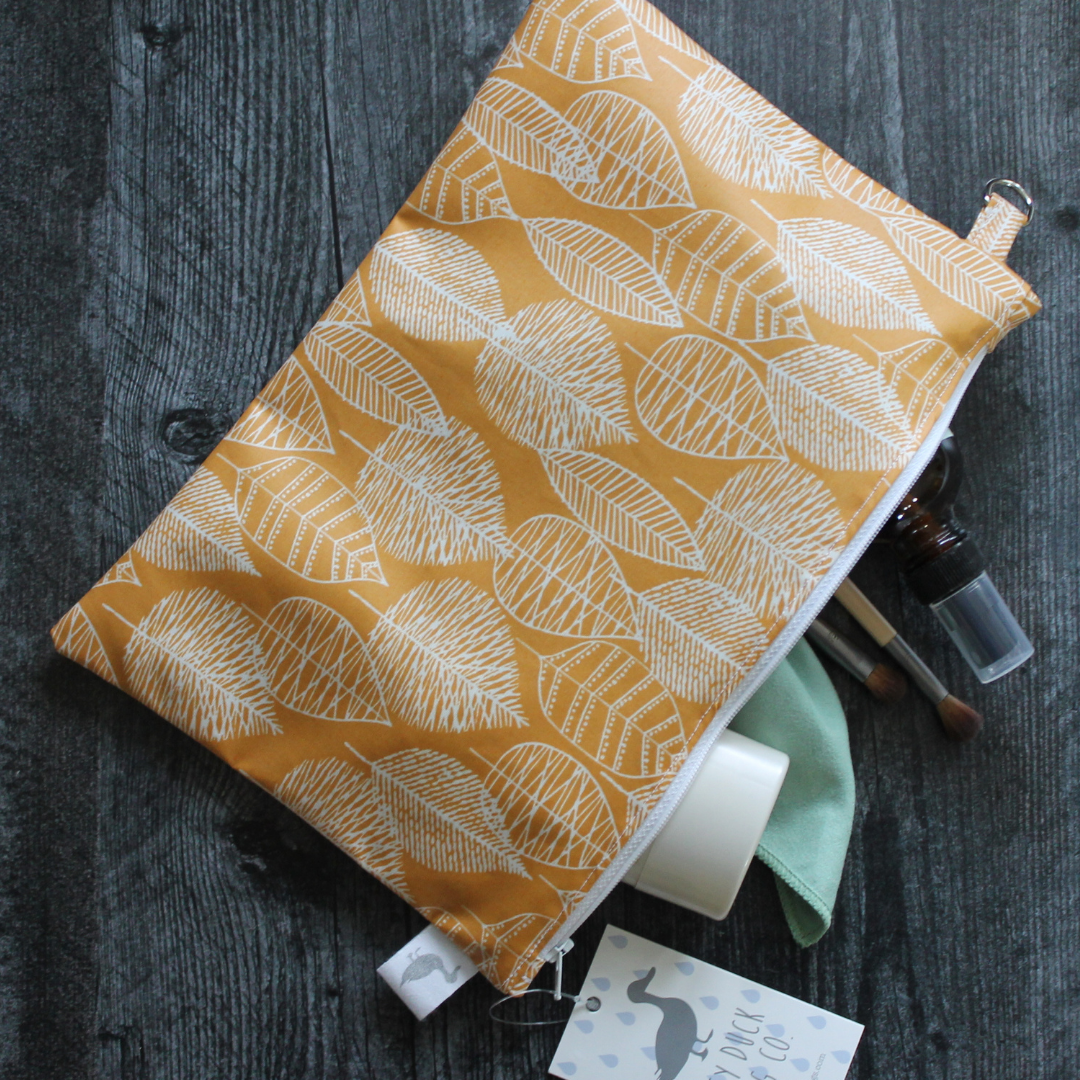 garden garlic dip mix, sherrilynn's - pierz
Established in 1999 and located in Pierz, each of Sherri Hoheisel's handcrafted gourmet recipe mixes, lotions, candles, scent shots, and melties are created with at least one "Minnesota Grown" ingredient. Sherri is proud of our Minnesota growers and farmers and does everything she can to promote Minnesota and it's valuable resources. You can find products at her Etsy shop, sherrilynnsinpierz. Or at www.sherrilynns.com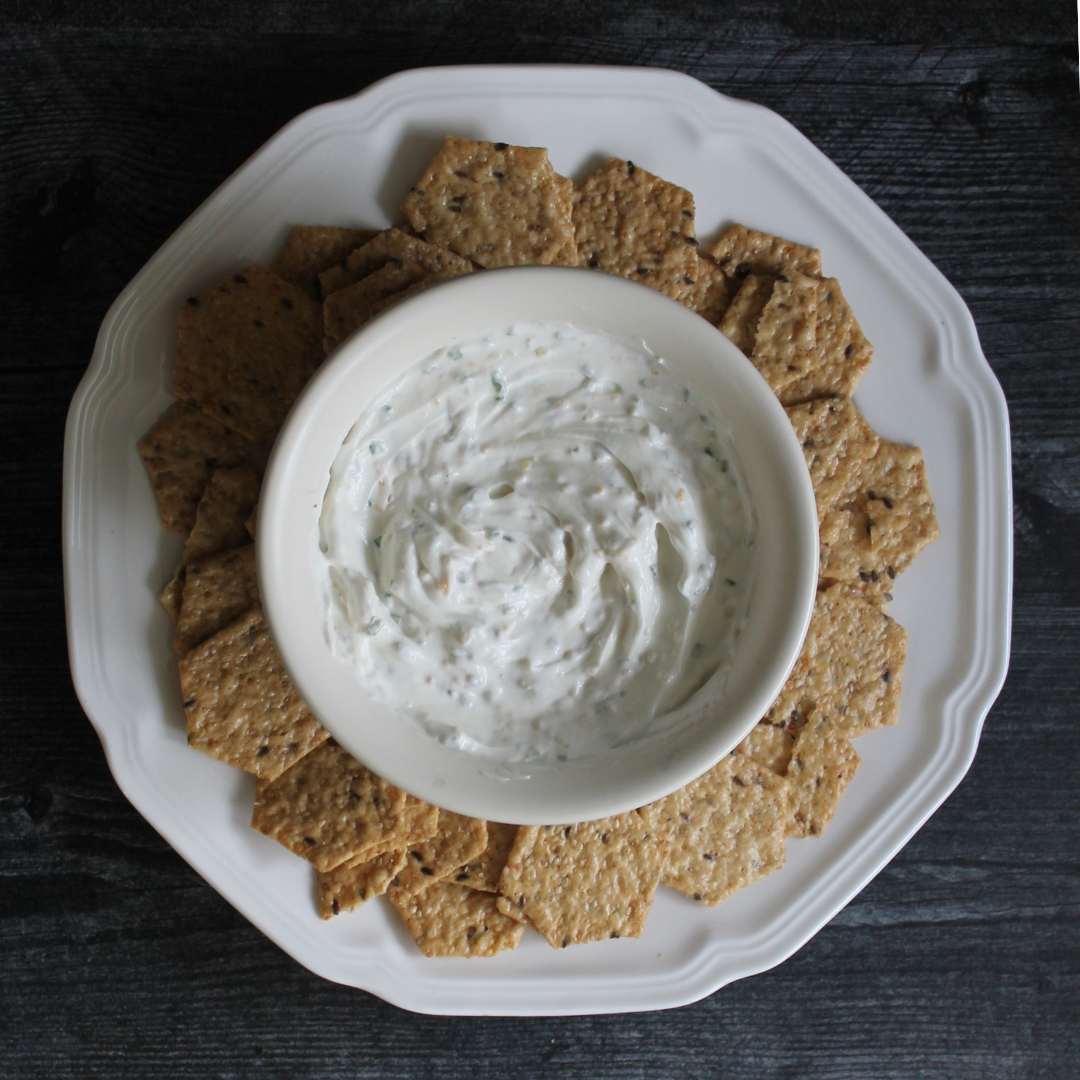 Wild Rice soup mix, sherrilynn's - pierz
Established in 1999 and located in Pierz, each of Sherri Hoheisel's handcrafted gourmet recipe mixes, lotions, candles, scent shots, and melties are created with at least one "Minnesota Grown" ingredient. Sherri is proud of our Minnesota growers and farmers and does everything she can to promote Minnesota and it's valuable resources. You can find products at her Etsy shop, sherrilynnsinpierz. Or at www.sherrilynns.com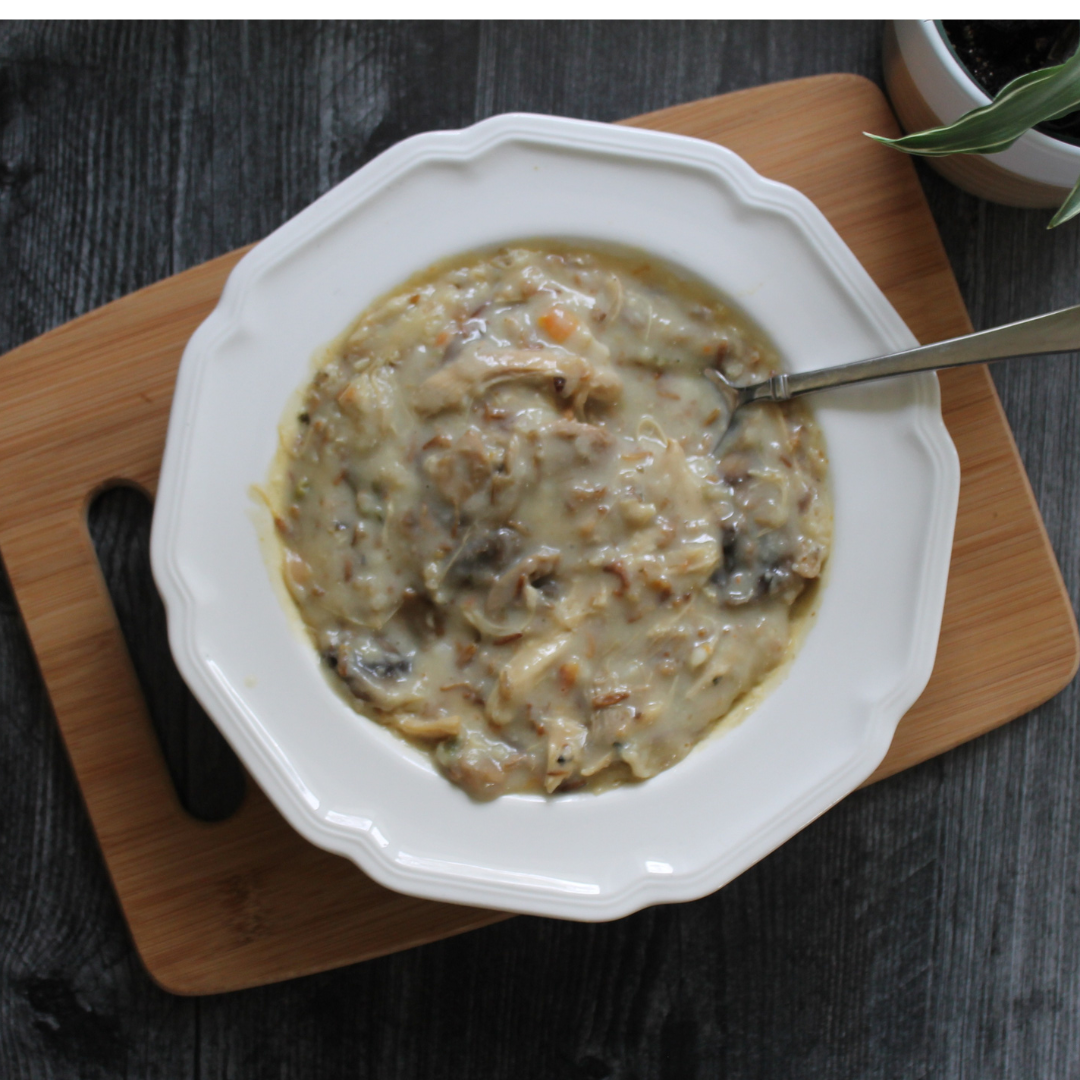 s'more bar, wildflower chocolate - nisswa
Chocolatier, Katie Stumvoll creates beautiful and unique chocolates infused with local ingredients and a whole lot of love. She is passionate about a life of stewardship and contributing to the live and eat local movement. She enjoys spending time in nature, and with her husband and children gardening and mountain biking. www.wildflowerchocolatemn.com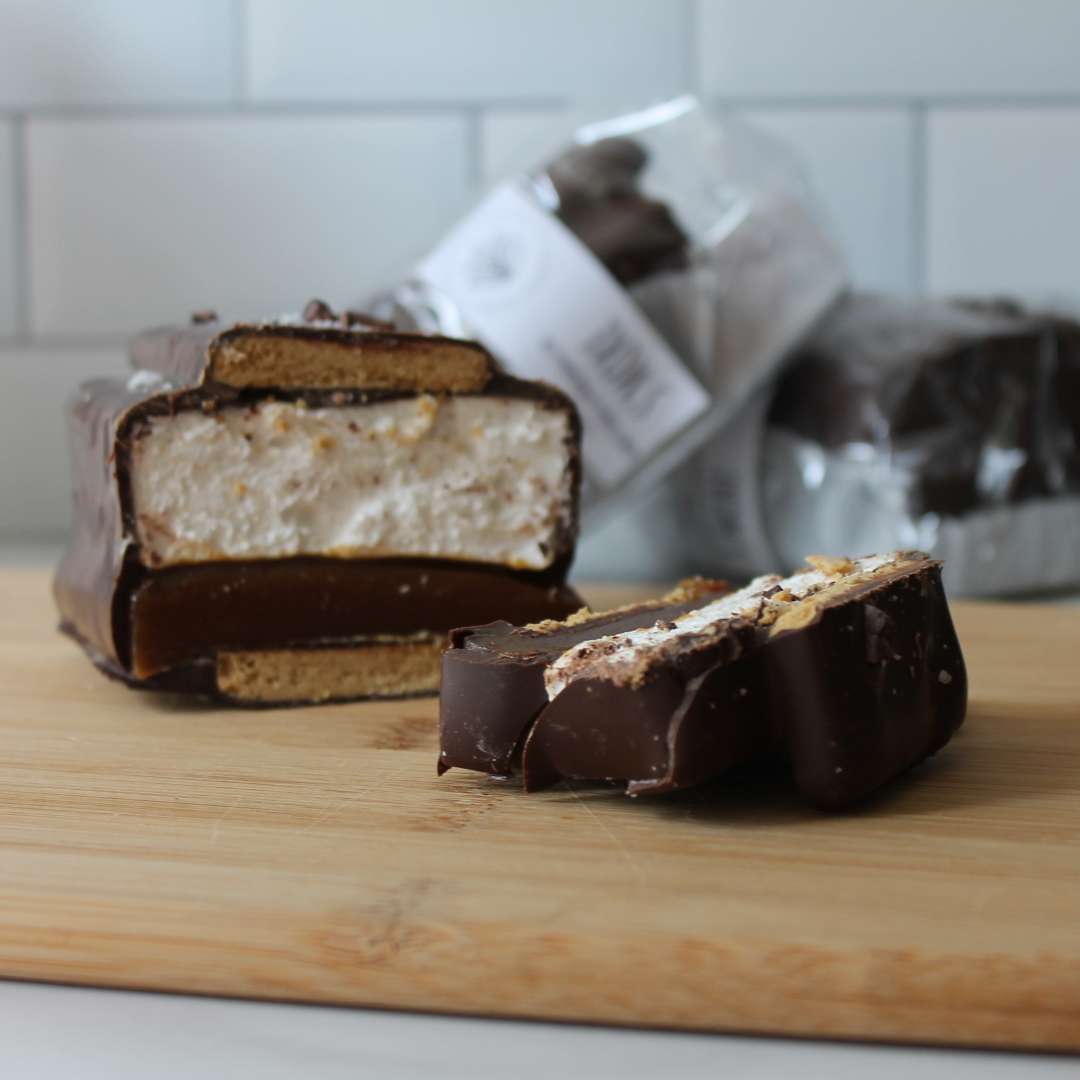 Shampoo bar, hibar - st paul
We've all seen the depressing headlines."Oceans predicted to have more plastic than fish by 2050." And many of us have witnessed the mess first hand. Well, a couple of years ago, four friends and fellow-optimists got talking one night and realized they'd all been working separately on the same project: getting rid of plastic in the bathroom. So we officially banded together to re-engineer how people wash and care for their hair. After a lot of trial and error, working with a team of hair care professionals, HiBAR was born. Solid shampoos and conditioners that skip the need for plastic packaging. No plastic. Just beautiful hair. Huzzah! We're really proud of HiBAR. It feels and smells lovely, cares for your hair as well as a bottled salon product, and it's free of chemical nasties. Getting rid of plastic in your shower is one small step in the right direction. We hope you take it with us. Nora, Jay, Ward and Dion.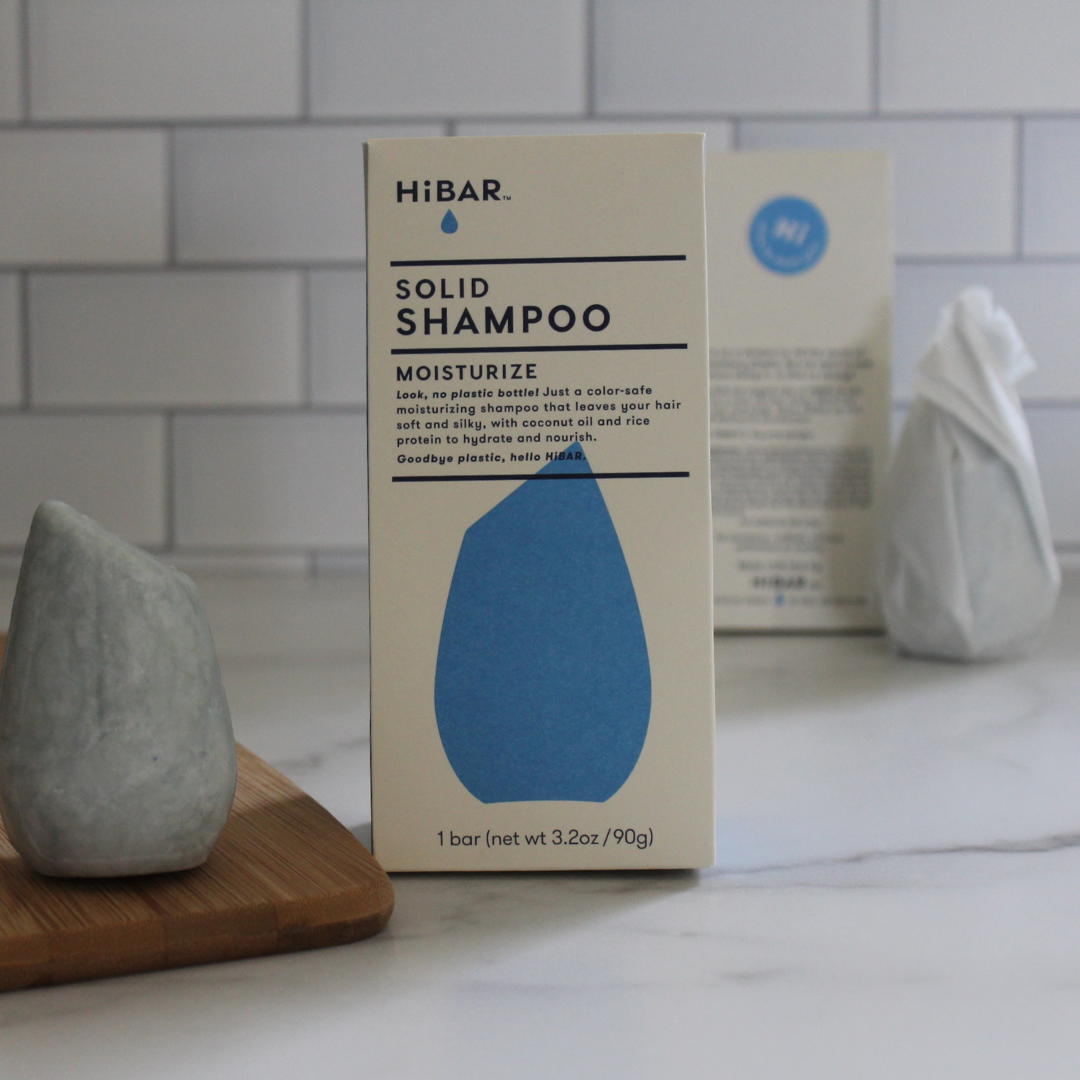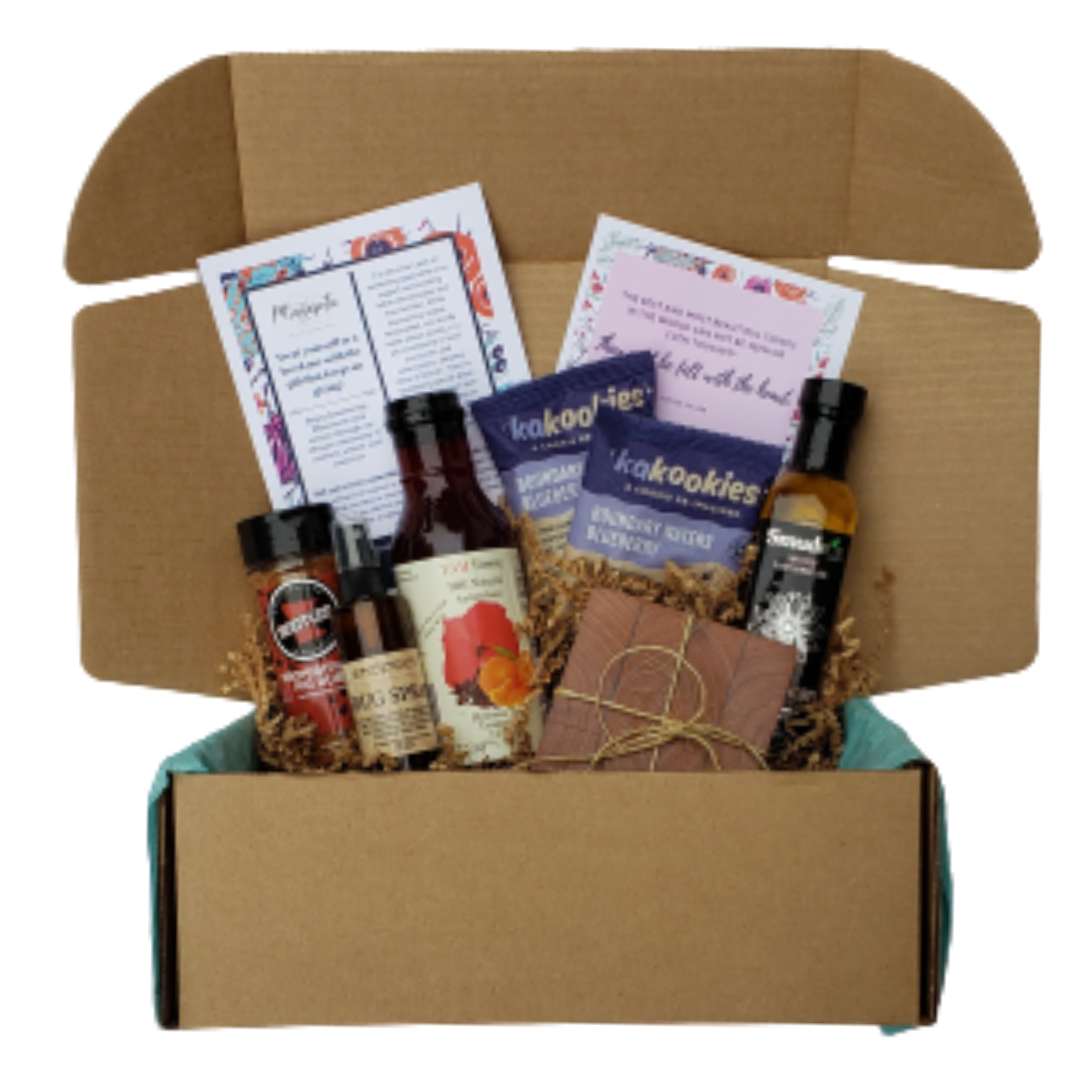 The fabulous locally crafted products in this season's box were chosen to help make your SUMMER a little extra SPECIAL.
Hibiscus Tea, Fah tea - Ramsy
Shared during family dinners and celebrations, hibiscus tea was the drink of choice for Fortuna Alexander's entire family in west Africa. At age 10, after her mother passed away during childbirth, Fortuna became an orphan. This event sparked her dream of one day opening an orphanage for the children of Liberia. A percentage of the proceeds goes toward funding Fortuna's dream. Visit their website to see a list of places their tea can be found. www.fahtea.com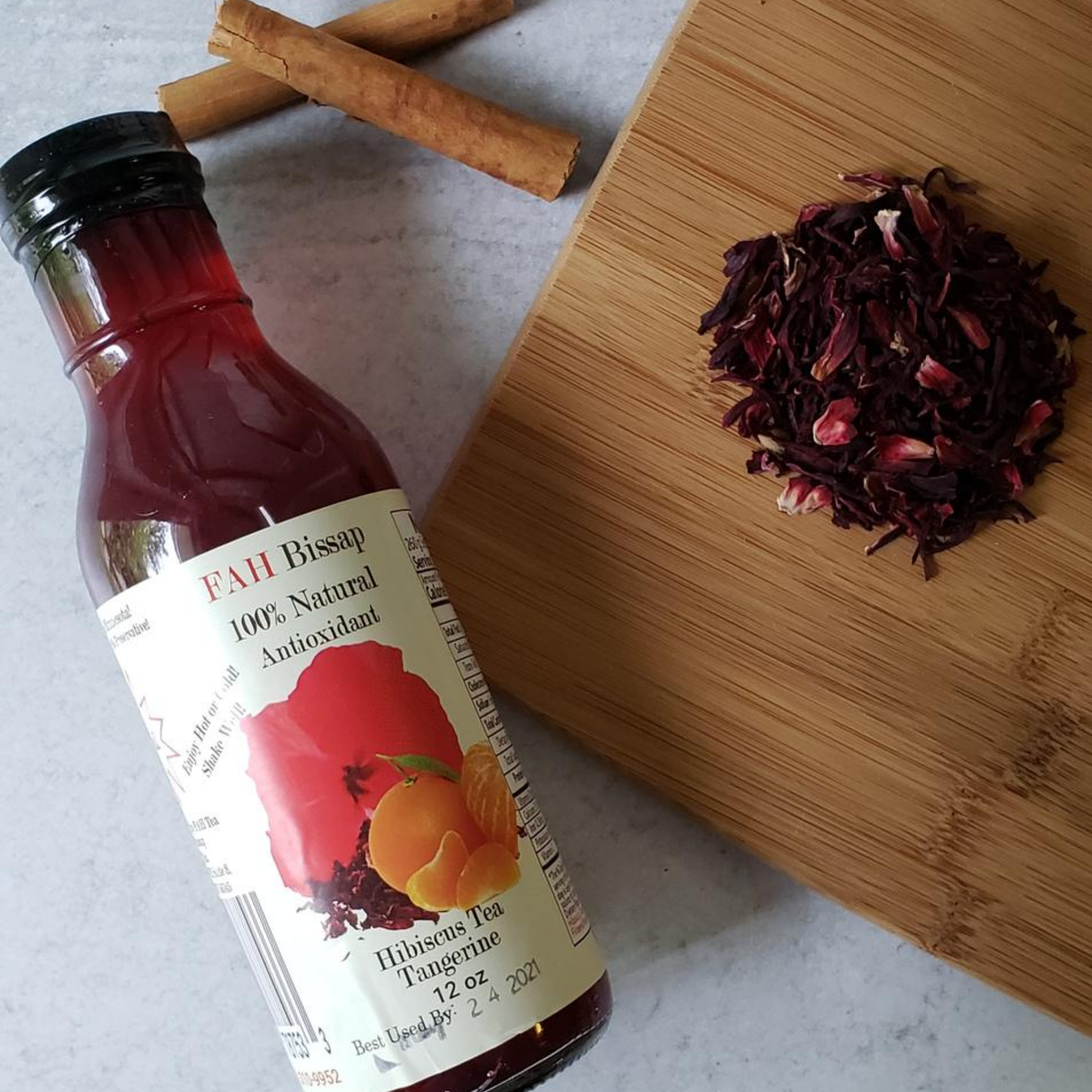 Bug Spray, Enspired - Windom
Enspired was founded in 2011 by Windom, MN native Hilary Mathis. Mathis, wife and mother of 5, strives to provide a friendly and feel-good experience with every customer interaction, and focuses on the creation of unique, handmade and all-natural products. The Enspired brand features a wide range of products including clothing, home decor, jewelry, handmade soaps, salves, candles, melts, lotions and much more. Their storefront is located on the historic town square in downtown Windom, MN. They can also be found on Facebook for ordering shipped products. www.facebook.com/enspiredonlinedotcom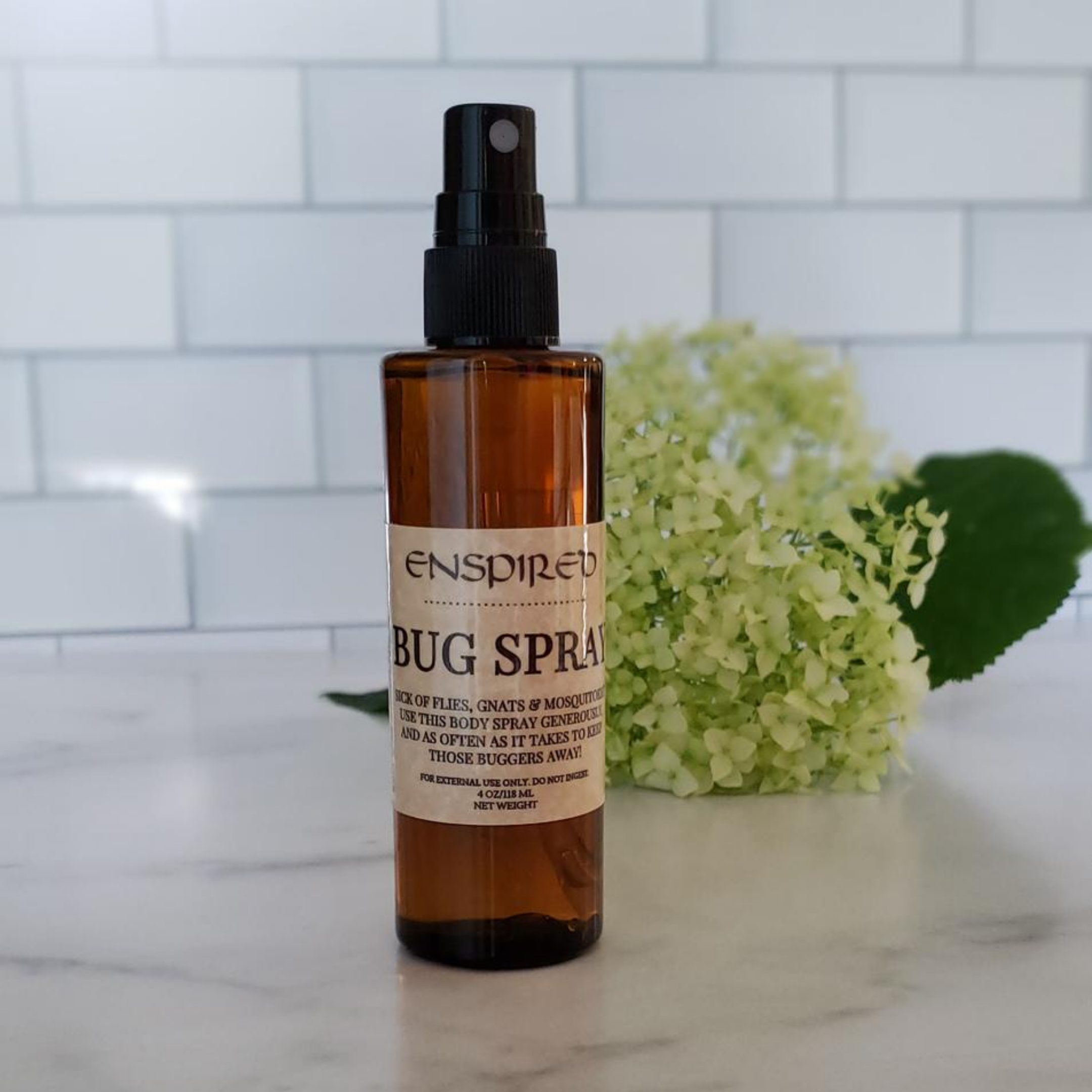 RedWOOD coasters, sticks and stones - royalton
Gary Bedel lives in central Minnesota where he creates art with natural stone and wood. After building and remodeling homes for 25 years, Gary now applies his attention to detail and love of building to crafting high quality items for homes and cabins everywhere. Some of Gary's work includes knobs and pulls, cutting boards and log furniture. www.facebook.com/BedelSticksandStones/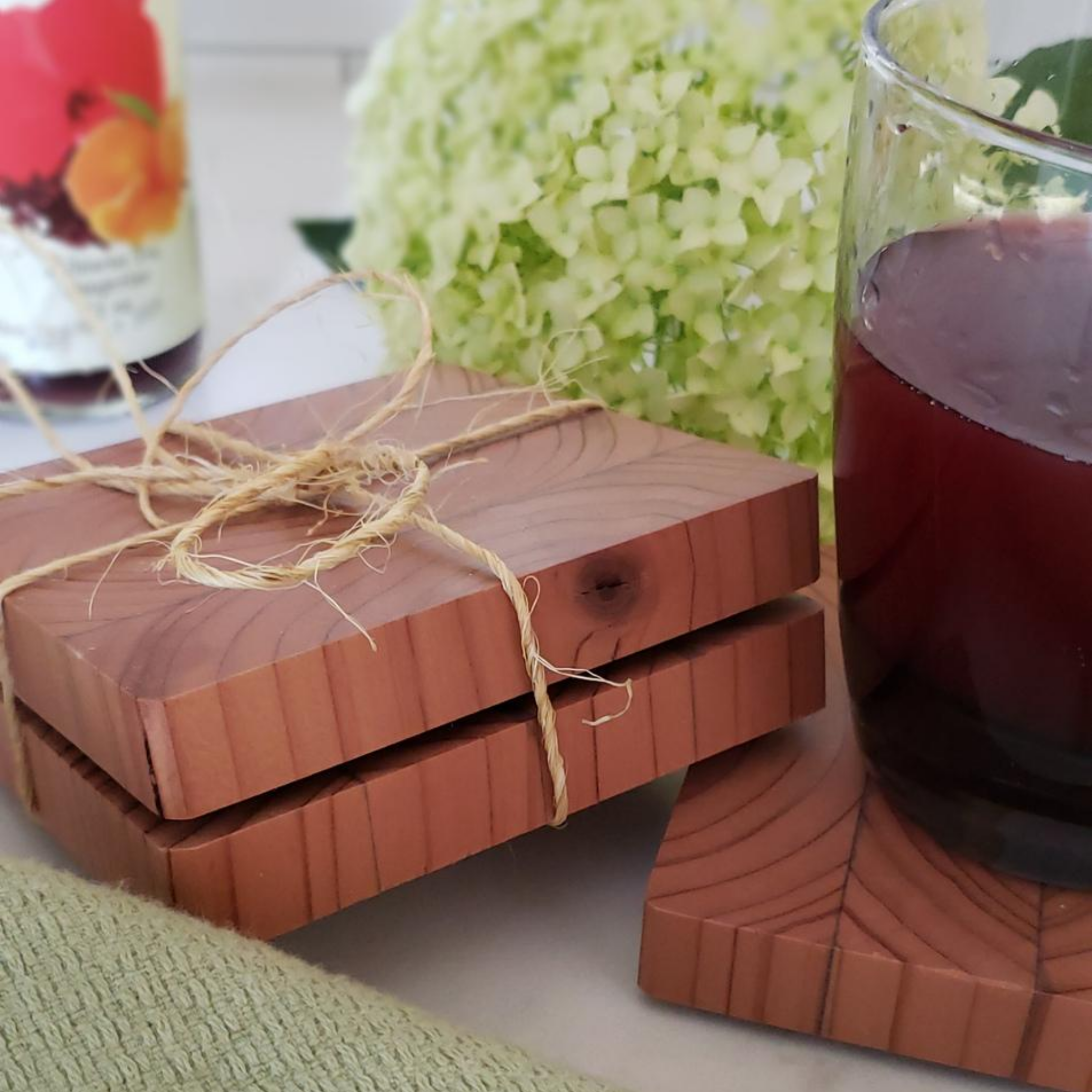 Garlic sunflower oil, smude oil - pierz
Tom and Jenni Smude are the proud owner's of Smude's Sunflower Oil. Their farm is home to 150 acres of sunflowers every year. The family stays busy between farming, their business, and school and family events. On any given day Tom and Jenni can be found at the office in Pierz working hard to help the growing business thrive. Smude's Sunflower Oil is greatful for the farmers and growers who help meet the demand to keep you, our consumer, happy! www.smudeoil.com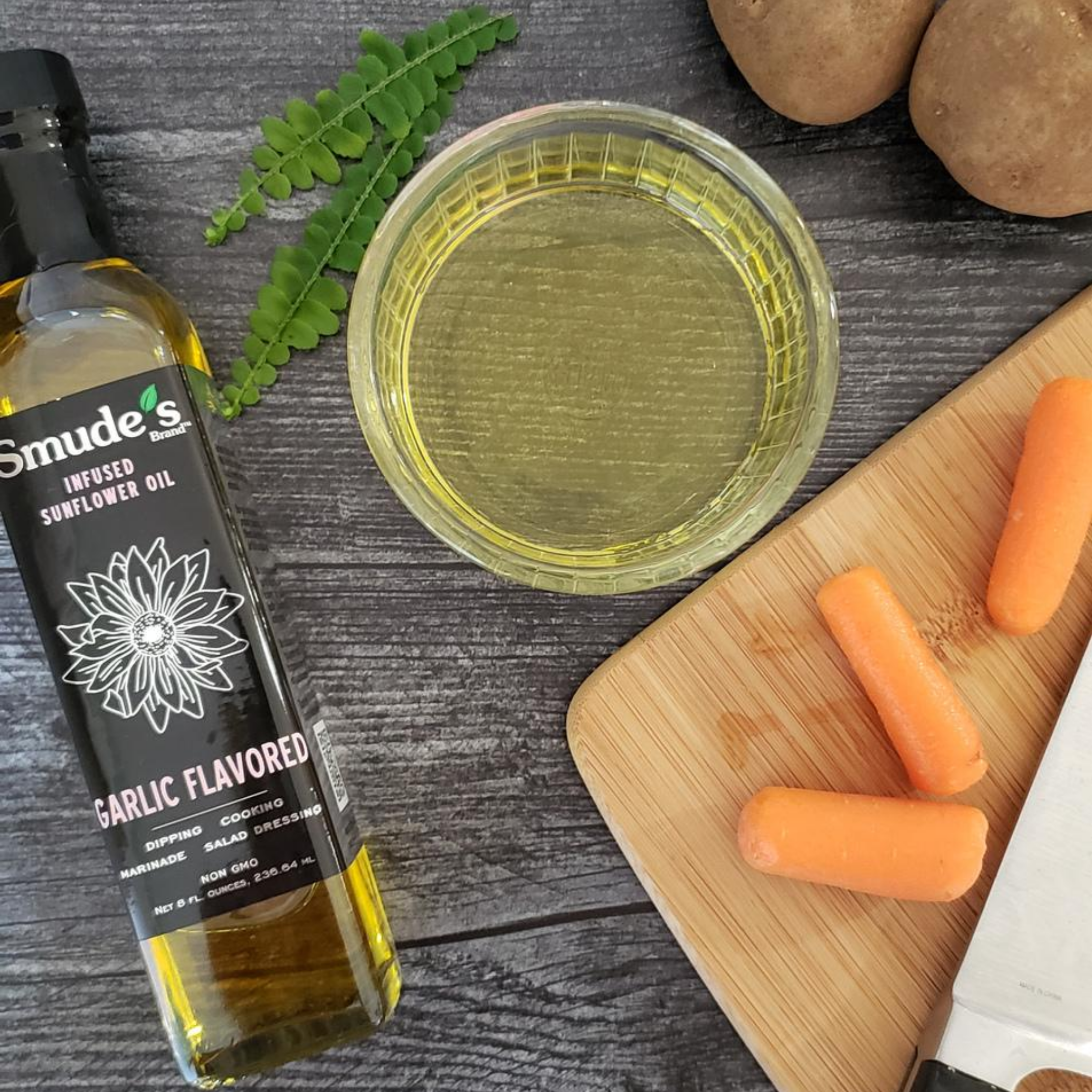 Blueberry Cookie, Kakookies - Minneapolis
When Sue Kakuk discovered her daughter and collegiate cycling teammates were stopping at fast-food for donuts and breakfast before their races, she carefully crafted an on-the-go cookie made with whole grains and superfood ingredients that satisfies hunger and sustains energy.  "I wanted to pack the deliciousness and comfort of a cookie with the nutrition of an energy bar into a grab and go snack to help fuel busy and active lifestyles" - Sue Kakuk.   Kakookies is a woman-owned, Minnesota local business. www.kakookies.com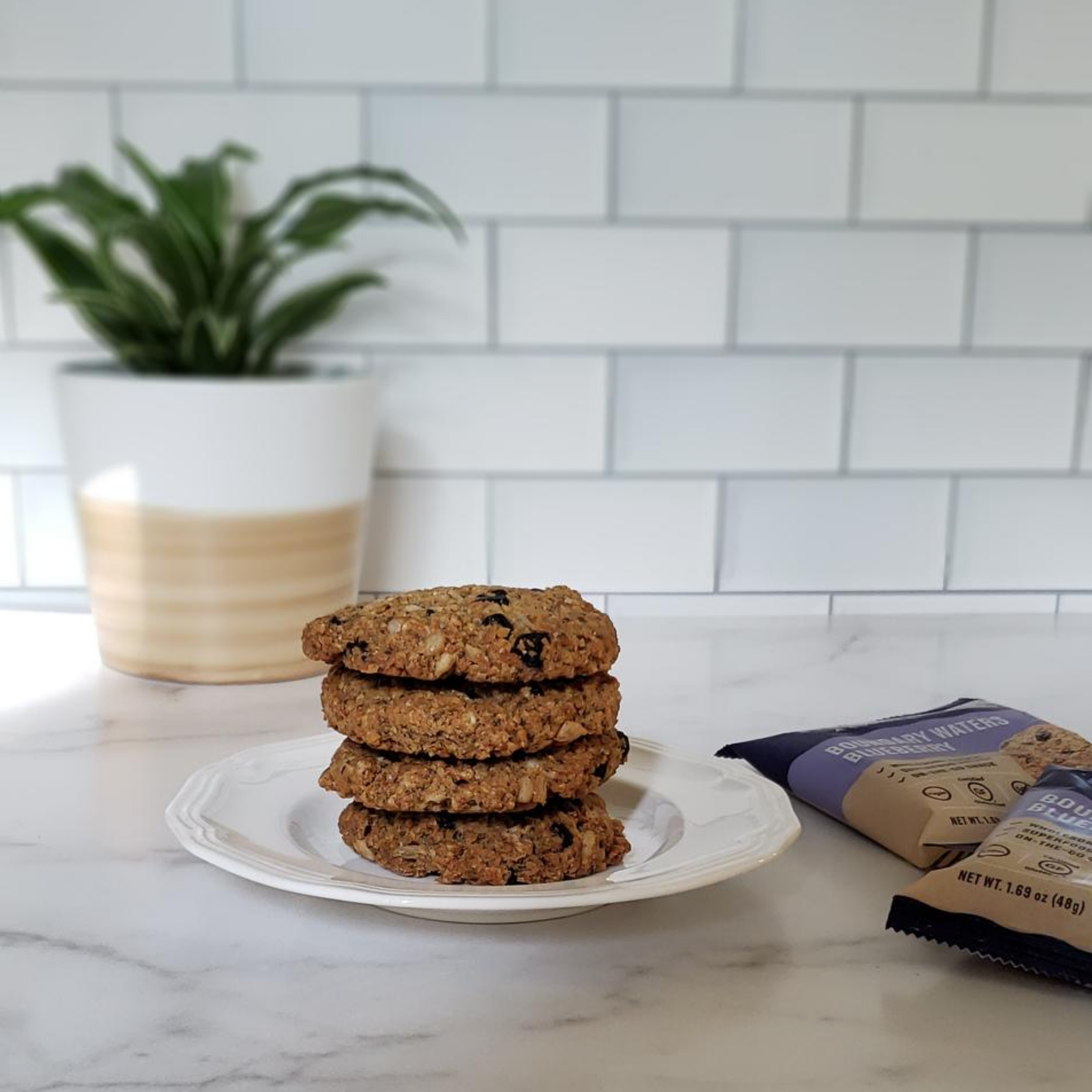 Prohibition pig rub, Bootleg - Maple grove
Over the years Renee, along with her husband Jody, dabbled in their hobby of creating unique, quality recipes that they enjoyed sharing them with friends and family. As time went by, friends and family continued to ask when they could be "taste testers" again. They joked it felt like they were "bootlegging" food, and the brand "Bootleg" was born. The husband and wife team offer a variety of unique and versitile specialized, handcrafted spices. www.bootlegmeats.com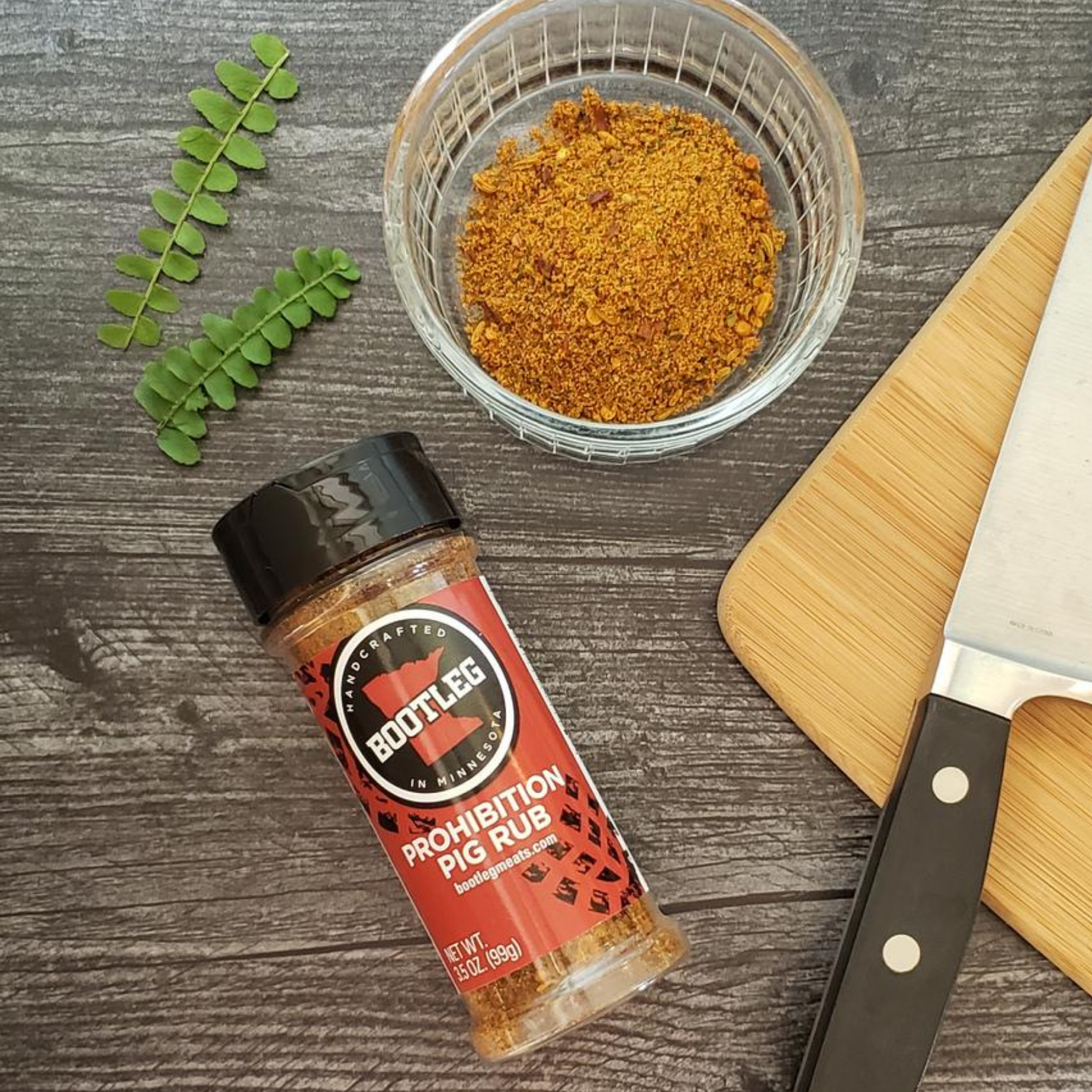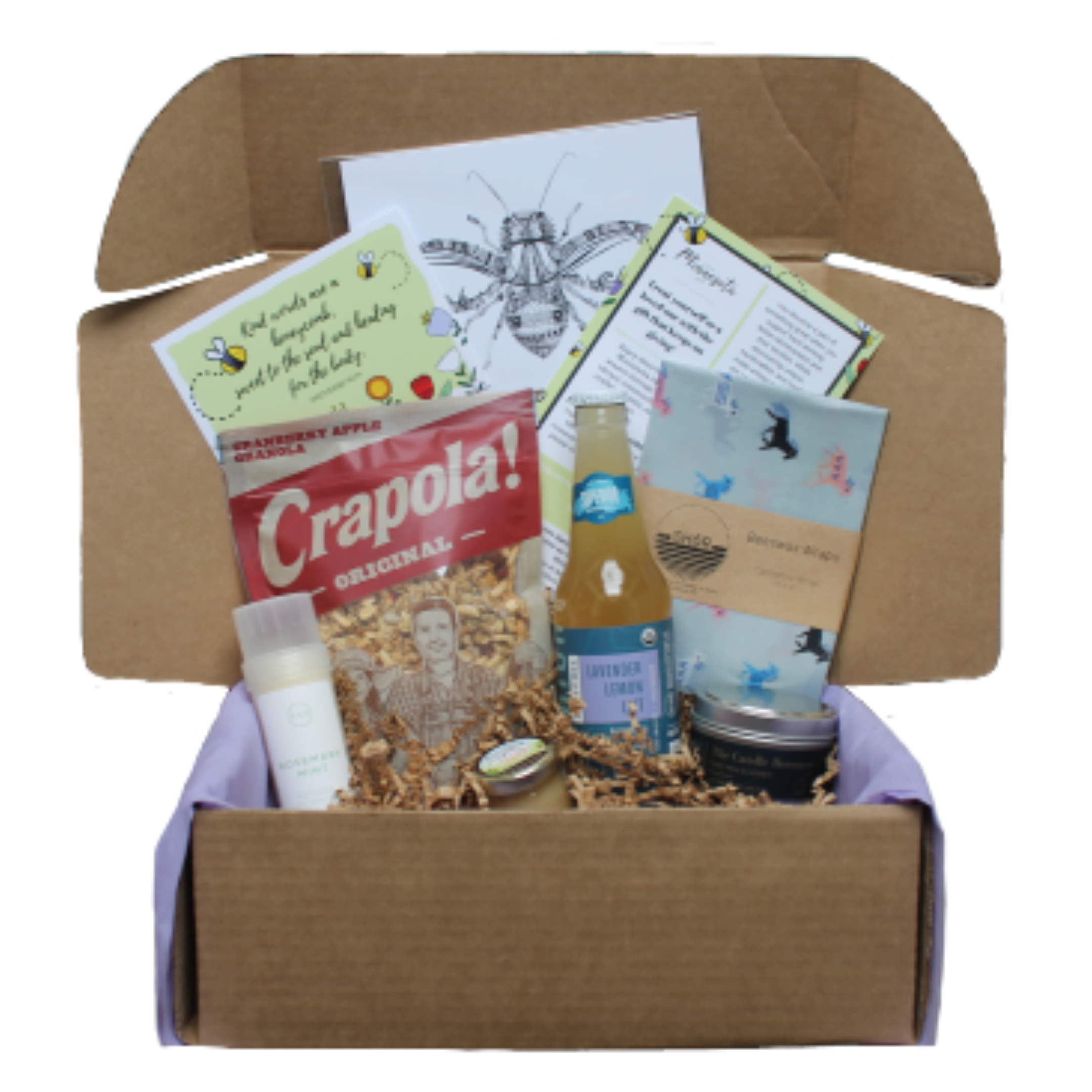 "SAVE THE BEES," our BEE themed box featuring a fabulous assortment of Minnesota-crafted beeswax and honey products along with beautiful bee art.
Vanilla Bean spreadable honey, Bare Honey - Minneapolis
Former chefs Grace and Dustin Vanasse started Bare Honey in 2009 with just three hives and a dream, exploring the secret life of bees. Now, Bare Honey has grown to produce some of the most innovative honey infusions and spreads on the market, pairing simple spices with pure, raw honey, hand-picked from Midwest nectar sources. Their mission is to bring nature's finest sweetener beyond the drizzle, while actively supporting pollinator research and sustainability. www.barehoney.com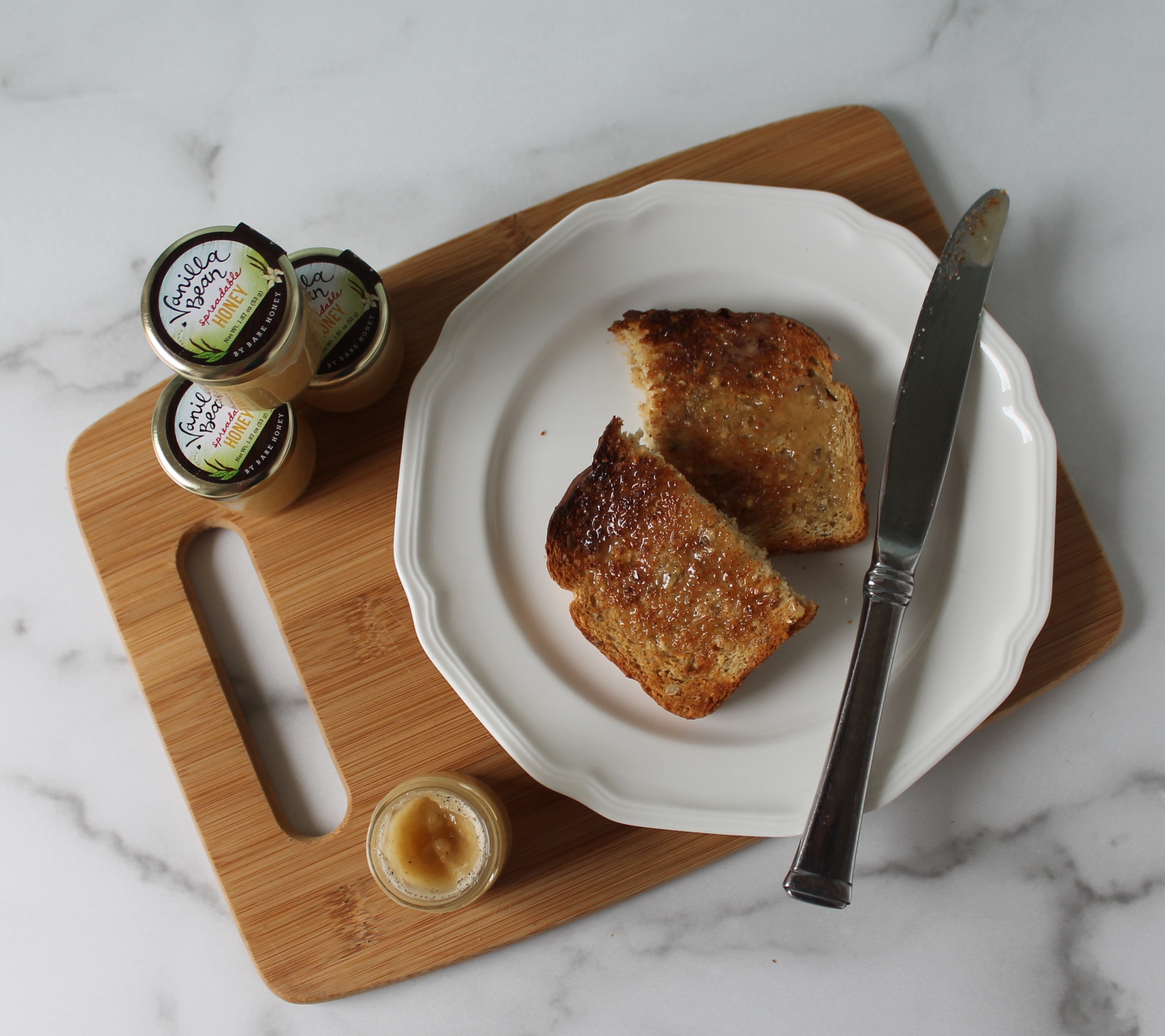 beeswax wraps, SHōR - Grand rapids
Wanting to use less single-use plastic, Micah and Cassidy Rude started SHōR. Their Beeswax Wraps provide a beautiful, reusable alternative to plastic wrap. The cotton fabric is cut, ironed, waxed, and packaged by hand and can be reused for up to a year. Living on a lake and enjoying all things lake-related, their motto is, "Let's Keep our Shores Plastic-Free". www.shorproducts.com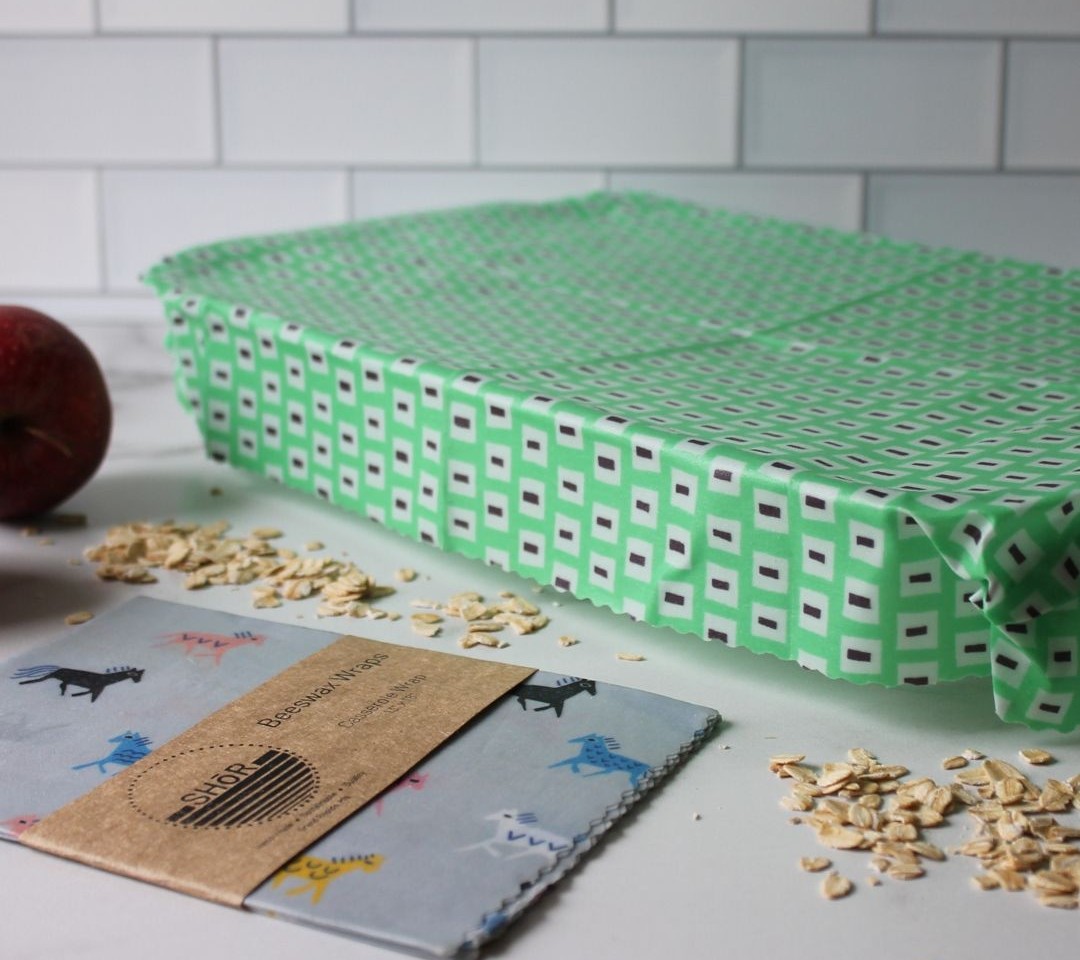 Rosemary mint lotion bar, FSR Cosmetics - Detroit Lakes
Our company was started by 14 year old, Frederick (FSR), who decided to start making natural soap because his skin was so irritated by the harsh ingredients in commercial soaps. For the last four years, Frederick's mother, Tina, a retired dentist, has been expanding their product lines to include natural lotions and soy/coconut wax candles. We pride ourselves on our quality, custom recipes and unique fragrance combinations. www.fsrcosmetics.com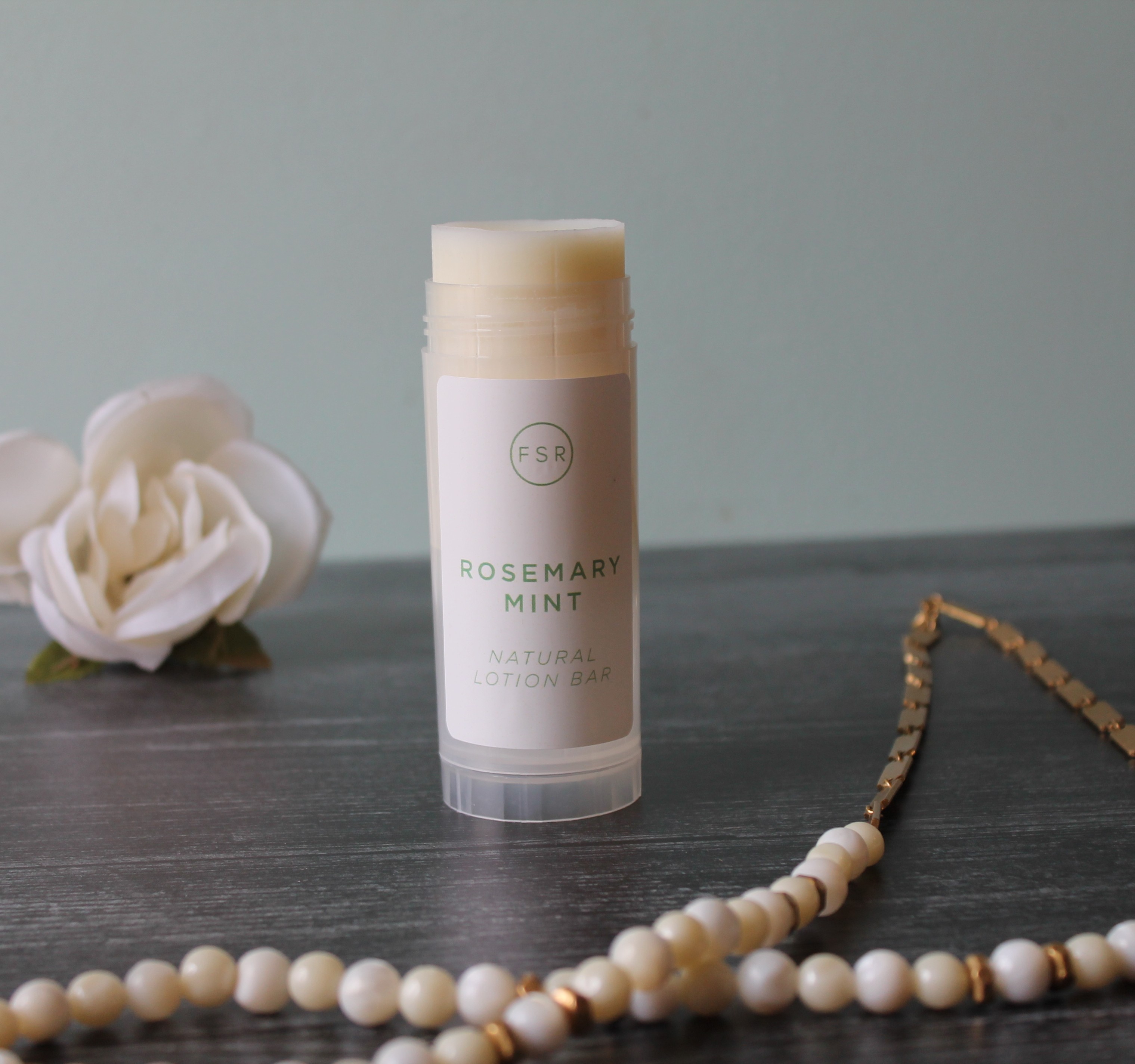 LAVENDER LEMON LIFT SWITCHEL, SUPERIOR SWITCHEL - ST. CLOUD
Superior Switchel botanically brews sparkling, certified organic switchel -- a refreshing, ginger and apple cider vinegar beverage from the 17th-century. This classic elixir is perfect for replacing electrolytes, boosting immunity and supporting digestion, and unlike kombucha, it is absolutely caffeine- and alcohol-free. (Although, it does blend quite nicely with spirits!) Superior Switchel is a certified Woman-Owned B-Corp and actively supports U.S. waterway conservation efforts with 1% of their annual sales. www.superiorswitchel.com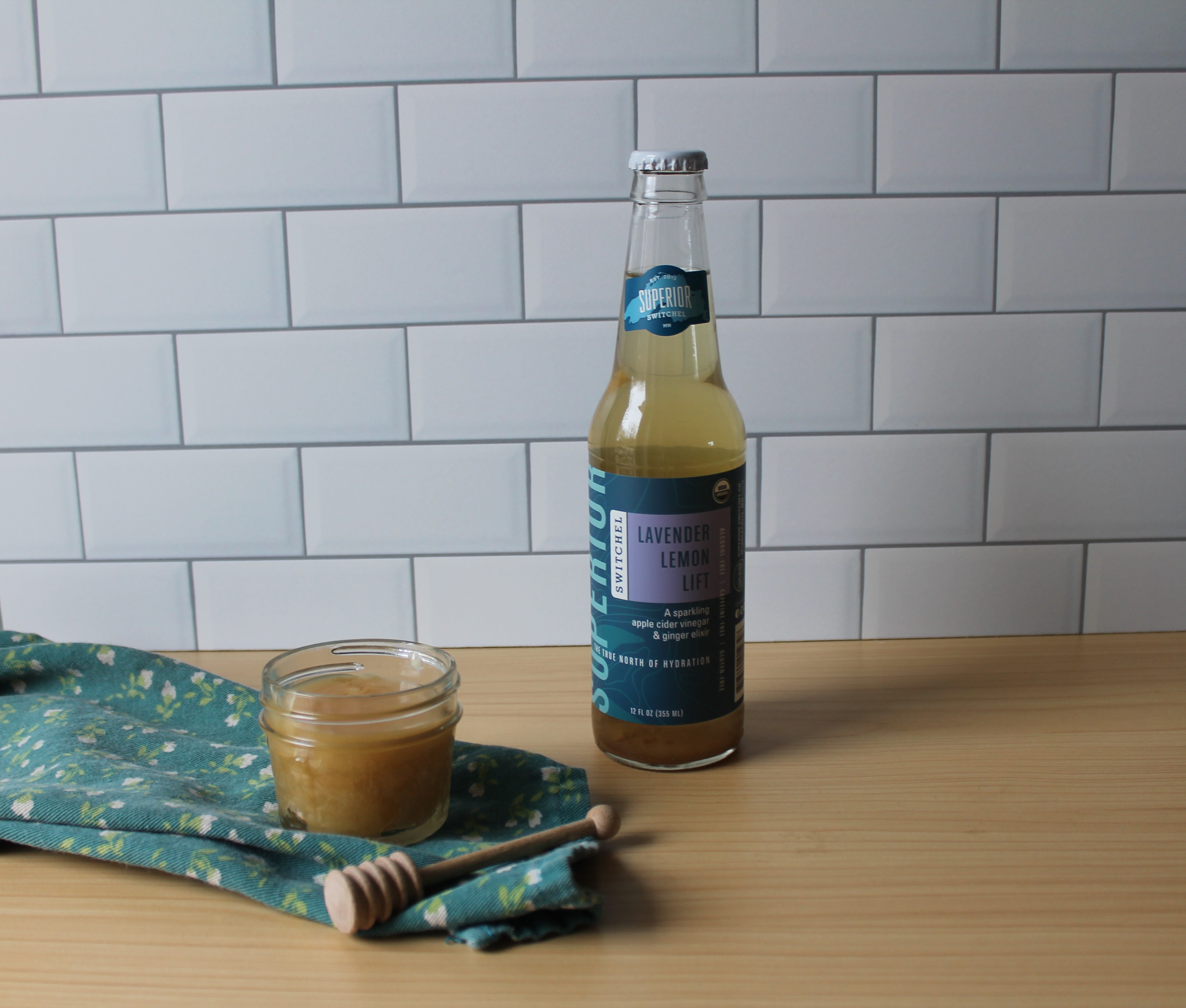 Bee Print, Foxcroft French- 
Elk River
Zanielle Foxcroft moved to Minnesota, from England, two years ago and started drawing and selling prints from her Etsy store. From Insects to custom pet portraits you will find hand drawn prints available and many other products with her signature style. A native South African, who spent years travelling the world, Zanielle has now settled in MN with her hubby and two boys. www.etsy.com/shop/foxcroftfrench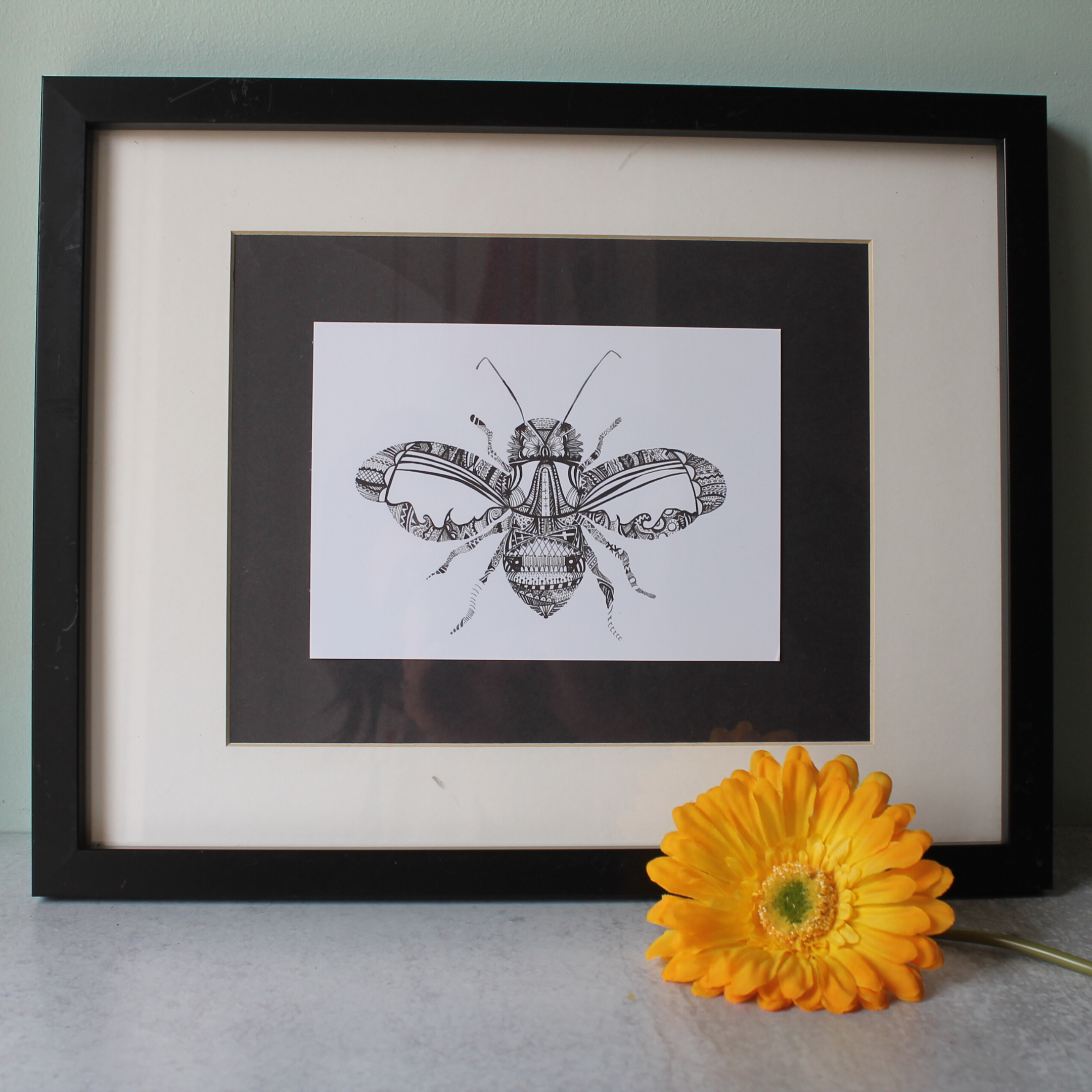 that Milk & Honey Candle,The Candle Beesness - New Richland
Natassia Misgen stumbled upon her love of beeswax after wanting to burn a cleaner product in her own home. A lady of many crafts and stay at home mother of two daughters, she was inspired by her friends and family to share her love of the bees. Each candle is hand poured and contains beeswax, coconut oil, a lead free hemp wick, phthalate free fragrance oil and the best intentions. www.facebook.com/thecandlebeesness/ www.instagram.com/thecandlebeesness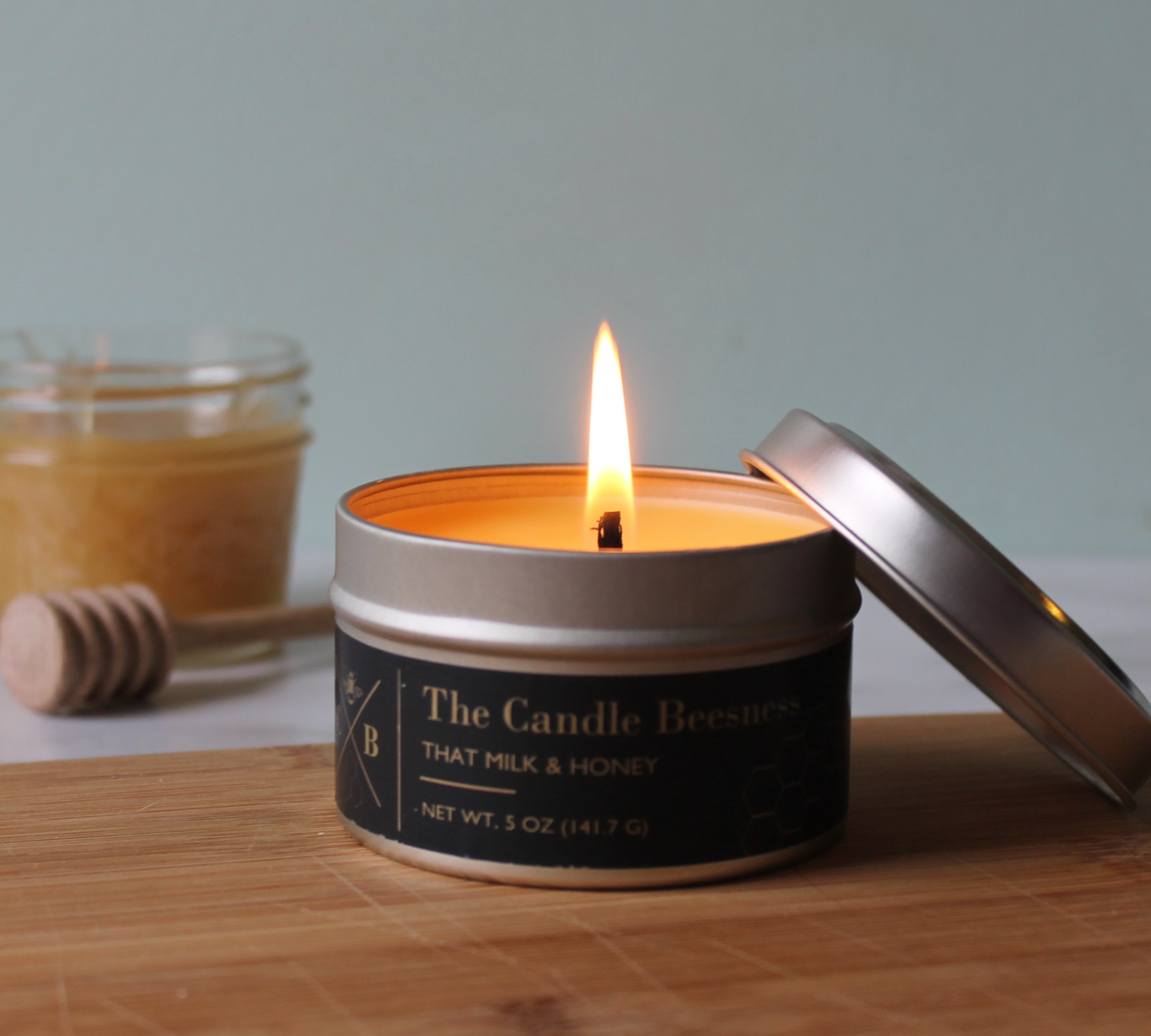 Crapola is the infamous brand of high-fiber granola so named by cleverly rearranging the letters of key ingredients (cranberries, apples and granola).  What started as a joke by founders Brian and Andrea Strom has since turned into a serious business, thanks to a winning combination of humorous marketing and artisan-quality granola.  Crapola has been 'Making Even Weird People Regular' since 2007.  www.crapola.us